No there isn't. There is absolutely no evidence whatsoever. Crank claims by scammers promoting the chemtrail hoax, out to con people out of their hard-earned cash and parroted all over the place by their gullible followers does not constitute evidence.



Apart from there being far more contrails in the sky these days, because far more planes are flying, the sky has not changed at all.



Yes, of course they criss-cross. Planes don't all fly in the same direction do they? Depends on where they are coming from and where they are going.



The only ones I've ever seen are from liars who pretend they have done this so they can have a laugh. And they have all been exposed as such as well.



I've done my research thanks, which is how I know chemtrails are an internet hoax. Have you done yours?






Here's how contrails are formed, whether persistant or not. If the atmosphere at that altitude is ice-supersaturated, the trails will persist and spread wide, just like normal clouds do because they both consist of just water vapour: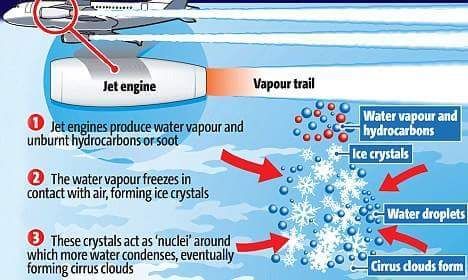 And aside from the science, which does not support the chemtrail claims at all, how do you think it is possible for any aircraft to carry thousands of tons of chemicals to make miles long trails in the sky, weighing thousands of tons?

And how is it possible that the pilots of thousands of planes are flying all over the world 24/7, spraying toxic chemicals over their own families and themselves, and the millions of people in the global aviation industry who would know about it all keep quiet?