UFO Casebook
Mystery Casebook-Bigfoot, Lake Monsters, & more >> Mystery Casebook-Bigfoot, Lake Monsters... >> A Development on the Number on DB Cooper's Letter
http://ufocasebook.conforums.com/index.cgi?board=mysterycasebook&action=display&num=1511109785

---
A Development on the Number on DB Cooper's Letter
Post by Swamprat on Nov 19th, 2017, 10:43am

What does 717171684 signify?


FBI releases 1971 letter that D.B. Cooper sleuth says could be from notorious hijacker

By Robert Gearty, Fox News
Nov. 19, 2017

Newly released FBI documents pertaining to the D.B. Cooper hijacking case include a letter that may only deepen the mystery surrounding the notorious unsolved crime which marks its 46th anniversary this week.

"I knew from the start that I wouldn't be caught," says the undated, typewritten letter from a person claiming to be the man who said he had a bomb and commandeered a Northwest Airlines flight from Portland to Seattle on Nov. 24, 1971. After releasing passengers and crew members, the man then ordered the pilots to fly to Mexico, only to parachute out the back door somewhere over Washington's rugged wooded terrain with $200,000.

"I didn't rob Northwest Orient because I thought it would be romantic, heroic or any of the other euphemisms that seem to attach themselves to situations of high risk," he said.

"I'm no modern-day Robin Hood. Unfortunately (I) do have only 14 months to live."

The carbon-copy letter was turned over to the FBI three weeks after the hijacking by The Washington Post, The New York Times, The Los Angeles Times and the Seattle Times, which were each mailed a copy and published stories about its contents. The letter was in an envelope with a greater Seattle area postmark.

Last month, the FBI released a copy of the letter that was sent to The Post in response to a Freedom of Information Act lawsuit brought by acclaimed D.B. Cooper sleuth Tom Colbert, a Los Angeles TV and film producer. He believes the letter is real.

"We have no doubt it's from Cooper and the reason is that he cites he left no fingerprints on the plane," he said. "The reason that's critical is because it's absolutely true."

"There were no prints found in the back of plane," Colbert said. "They found 11 partial prints that's all, sides, fingers, tips and palm. But no prints of value were found."

The FBI wrapped up its D.B. Cooper investigation last year without identifying the hijacker or ruling out the possibility that he could have been killed in the treacherous jump. The FBI says it considered 800 people as suspects. The FBI also never established the authenticity of the letter to the four newspapers, or, for that matter, four other letters that also purported to be from the hijacker. Those letter were sent a few days after the hijacking.

The FBI got its biggest lead in the case in 1980 when a young boy walking along the Columbia River in Washington found a bundle of rotting $20 bills whose serial numbers matched the ransom money serial numbers.

"My life has been one of hate, turmoil, hunger and more hate; this seemed to be the fastest and most profitable way to gain a few fast grains of peace of mind," the letter said. "I don't blame people for hating me for what I've done nor do I blame anybody for wanting me to be caught and punished, though this can never happen."

The person wrote that he wouldn't get caught because he wasn't a "boasting" man, left no fingerprints, wore a toupee and "wore putty make-up."

"They could add or subtract from the composite a hundred times and not come up with an accurate description," the letter said, adding, "and we both know it."

"As a matter of fact I've never even received a speeding ticket," the person wrote.

FBI agents in the field apprised FBI Director J. Edgar Hoover of their investigation into the letter, according to other documents the FBI turned over to Colbert along with the letter.

"Efforts were made by (Washington Field Office) to preserve the letter and envelope for latent fingerprints," read one of the documents, an FBI memo. "However, both were handled by an unknown number of individuals at 'The Washington Post' prior to being obtained by WFO."

THE MEMO ALSO SAID THAT AGENTS COULDN'T FIGURE OUT THE SIGNIFICANCE OF THE TYPED NUMBER "717171684" OPPOSITE THE NAME "WASH POST" IN THE BOTTOM LEFT CORNER OF THE LETTER.

In another memo, agents in Seattle requested that the FBI lab determine if the paper on which the letter was written could conceivably be from government stock, "noting that it resembles the carbon copy of the airtel material used by the Field Offices."

Since January, the FBI has released more than 3,000 documents to Colbert, who formed a volunteer team of 40 former law enforcement officials to investigate the hijacking. The FBI said in court papers that it has more than 71,000 documents that may be responsive to Colbert's lawsuit.

Colbert and his team believe D.B. Cooper is an individual named Robert Rackstraw who flew helicopters in the Vietnam War and is now 73 and living in the San Diego area.

In March, Rackstraw sent the judge presiding over Colbert's FOIA lawsuit a rambling 9-page letter that the judge took to be a motion to intervene in the case. In his letter Rackstraw said that he was not D. B. Cooper and accused Colbert of ruining his life.

The judge responded to the letter by issuing a ruling that rejected Rackstraw's motion.

In July, Rackstraw sent another letter to the court in which he again said he was not the hijacker.

See pictures: http://www.foxnews.com/us/2017/11/19/fbi-releases-1971-letter-that-d-b-cooper-sleuth-says-could-be-from-notorious-hijacker.html

---
Re: D. B. Cooper: Travex, We Have a Question
Post by dave54 on Nov 19th, 2017, 12:30pm

If genuine, and it may or may not be, the number could be a red herring. Cooper deliberately left other false clues on the plane to hamper the investigation.

---
Re: D. B. Cooper: Travex, We Have a Question
Post by Swamprat on Nov 19th, 2017, 1:14pm

Good point, Dave.
---
Re: A Development on the Number on DB Cooper's Let
Post by Swamprat on Feb 1st, 2018, 3:20pm

The significance of the number "717171684" may have been determined:


DB Cooper sleuth claims hijacker was CIA agent, FBI is 'flat-out lying' about case

By Travis Fedschun | Fox News
February 1, 2018

The leader of the private investigative team who has spent years trying to crack the D.B. Cooper hijacking case claimed Thursday he believes the mysterious criminal was a CIA agent whose identity has been covered up by federal agents.

Thomas Colbert, a documentary filmmaker who helped put together the 40-member team, told the Seattle PI his team made the connection from work a code breaker uncovered in each of the five letters allegedly sent by Cooper.

Last month, he insisted in an interview with the PI that a nine-digit number found at the bottom of a letter believed to be sent by the mysterious plane hijacker came from a San Diego man who is still alive -- Robert Rackstraw, an Army veteran.

"The new decryptions include a dare to agents, directives to apparent partners, and a startling claim that is followed by Rackstraw's own initials: If captured, he expects a get-out-of-jail card from a federal spy agency," Colbert said in a news release Thursday.

The code in question was discovered on the bottom of a fifth letter allegedly sent by Cooper after he hijacked a Northwest Orient Boeing 727 on Nov. 24, 1971.

Colbert said several people who knew Rackstraw have come forward to claim he had possible connections to the CIA and other top-secret operations.

The investigator told the newspaper the man who sent the letter may have put the code into the letter to signal to possible co-conspirators that he was alive.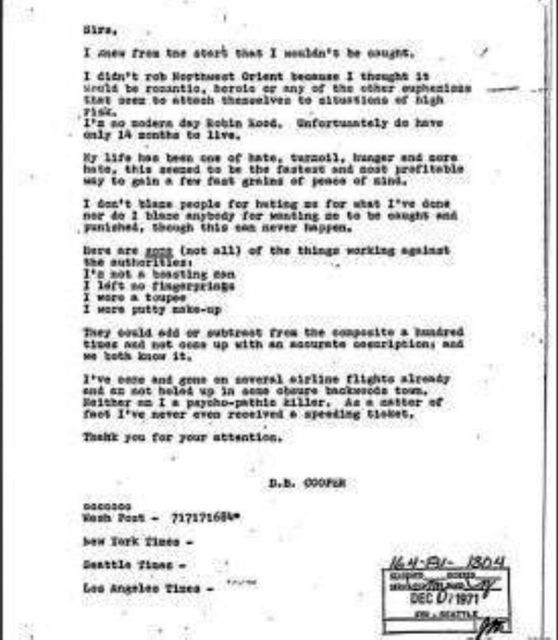 The letter allegedly written by DB Cooper and sent to The Washington Post. (FBI)

Colbert claims that the code refers to three specific Army units Rackstraw was connected to during his military service. One of Rackstraw's former commanders told Colbert that Rackstraw would have learned some encryption codes before being pulled from the unit.

"I think the coding thing is remarkable, but I'm a hard skeptic," Dorwin Schreuder, a former FBI agent who worked on the Cooper case in the 1980s, told the Seattle PI back in January. "The circumstances of those codes being what Tom says they are, that he says nobody but him would know these units and these figures, if it's true that's pretty hard to argue against. Rackstraw might be his guy."

The FBI released the fifth letter in November in response to a Freedom of Information Act lawsuit, which featured the typed number "717171684" opposite the name "Wash Post" in the bottom left corner. Colbert's team appeared to have linked the number to Rackstraw.

An investigator with Colbert's team claims that in the four other previously released documents, the letters "SWS" appear in one letter, which is short for "Special Warfare School." He also said Cooper claimed to be a CIA agent in another document where the letters "RWR," standing for Robert W. Rackstraw, appear.

"As we suspected, records show the Bureau has been stonewalling, covering up evidence and flat-out lying for decades," he told The Oregonian.

Since last January, the FBI has released more than 3,000 documents to Colbert's team investigating the hijacking. The FBI said in court papers that it has more than 71,000 documents that may be responsive to Colbert's lawsuit.

Watch video: http://www.foxnews.com/us/2018/02/01/db-cooper-sleuth-claims-hijacker-was-cia-agent-fbi-is-flat-out-lying-about-case.html

---